FOOD
Double the Decadence with New Magnum Duets
In the world of Magnum ice cream, there's no such thing as "too indulgent." As the chocolatiers of ice cream, we have doubled down on the decadence of chocolate in new Magnum Ice Cream Duet Bars. We're proud to introduce the very first ice cream bars to be dipped in two different types of chocolate for one perfect bite, Magnum Duets are the ultimate ice cream treats for chocolate lovers. Discover true ice cream indulgence with the double chocolate experience of Magnum Ice Cream Duet Bars.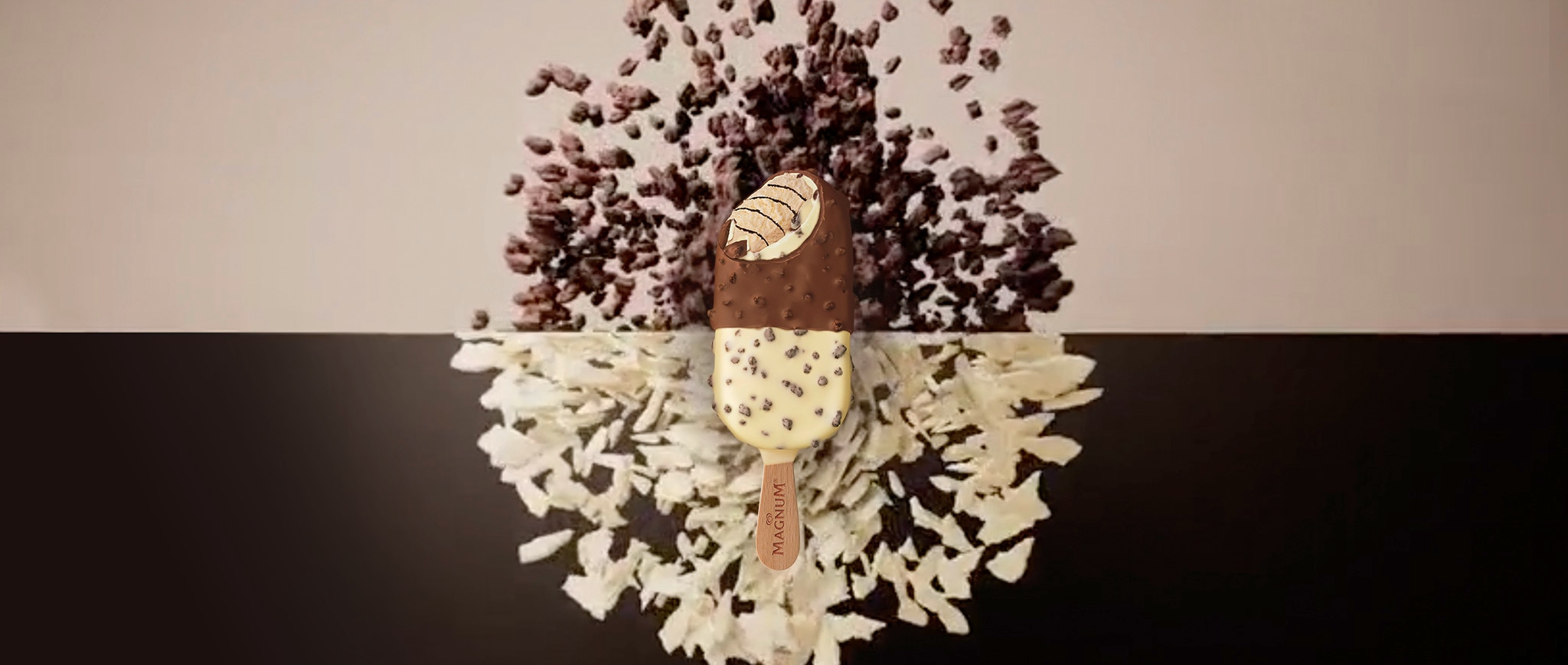 Like every Magnum ice cream creation, our new Magnum Duets are thoughtfully sourced, crafted from the world's highest quality ingredients and made with Belgian chocolate. Featuring luscious sauces, like brown sugar almond butter, chocolate ganache and raspberry swirl, and crunchy delights, like chocolate cookie pieces and almond bits, there's a heavenly mix of delicious ingredients in every Magnum Duet flavor.
Debuting in four luxurious flavors — Cookie Duet Bars, Almond Duet Bars, Chocolate Duet Bars and Caramel Duet Bars— each Magnum Duet ice cream bar is made with real, creamy ice cream and dipped in a two types of rich chocolate coatings for a unique taste and signature Magnum crack with every bite. It's the same cracking chocolate sensation you love about the original Magnum Ice Cream Bars, now with even more chocolate to love.
For those who love the nutty crunch of almonds in their chocolate treats, meet our Almond Duet ice cream bar. The Magnum Almond Duet Bar features a delightful almond ice cream swirled with decadent brown sugar almond butter, fully dipped in milk chocolate with crunchy almond bits and half-dipped in ultra-rich cacao dark chocolate. This almond ice cream treat is a crunchy and sweet way to feed your strongest chocolate cravings. When we doubled the chocolate in our Chocolate Duet bar, we added a touch of sweet fruit as well. The Mangum Chocolate Duet Bar offers rich vanilla ice cream with a luscious raspberry swirl fully dipped in an exquisite white chocolate shell and half-dipped in a cracking milk chocolate shell. Our Chocolate Duets are a luxurious way to enjoy the classic and irresistible combination of rich chocolate and luscious fruit.
When cookies, ice cream and chocolate blend together, the result is pure indulgence. The Magnum Cookie Duet Bar combines creamy vanilla ice cream with a luscious chocolate ganache swirl, fully dipped in decadent white chocolate with delicious chocolate cookie pieces, and half-dipped in rich 39% cacao milk chocolate. This cookie ice cream bar is a crunchy and creamy delight in each bite. Going back a classic combination, the ever indulgent mix of chocolate and caramel. The Magnum Caramel Duet is the ultimate bar, caramel ice cream with a sea salt caramel swirl, fully dipped in dark chocolate and half dipped in milk chocolate.
Get ready to double that blissful feeling of cracking into a chocolatey Magnum Ice Cream Bar with new Magnum Duets. Whether you choose the savory-sweet delight of our Almond Duet bars, the chocolatey sensation of our Chocolate Duet bars, the crunchy coating of our Cookie Duet bars, or the extra-dedcadent flavours of our Caramel Duet bar, you'll be indulging in a delightful chocolate treat that only the chocolatiers of ice cream could create. The only decision left is which doubly delicious Magnum Duet bar to bite into first.
slide 1
slide 2
slide 3
slide 4
slide 5
slide 6
slide 1
slide 2
slide 3
slide 4
slide 5
slide 6