Magnum White Chocolate & Cookies - Cookie devotion
A sumptuous recipe that brings together three decadent ingredients to give the ultimate taste experience: cookies, ice cream and white chocolate.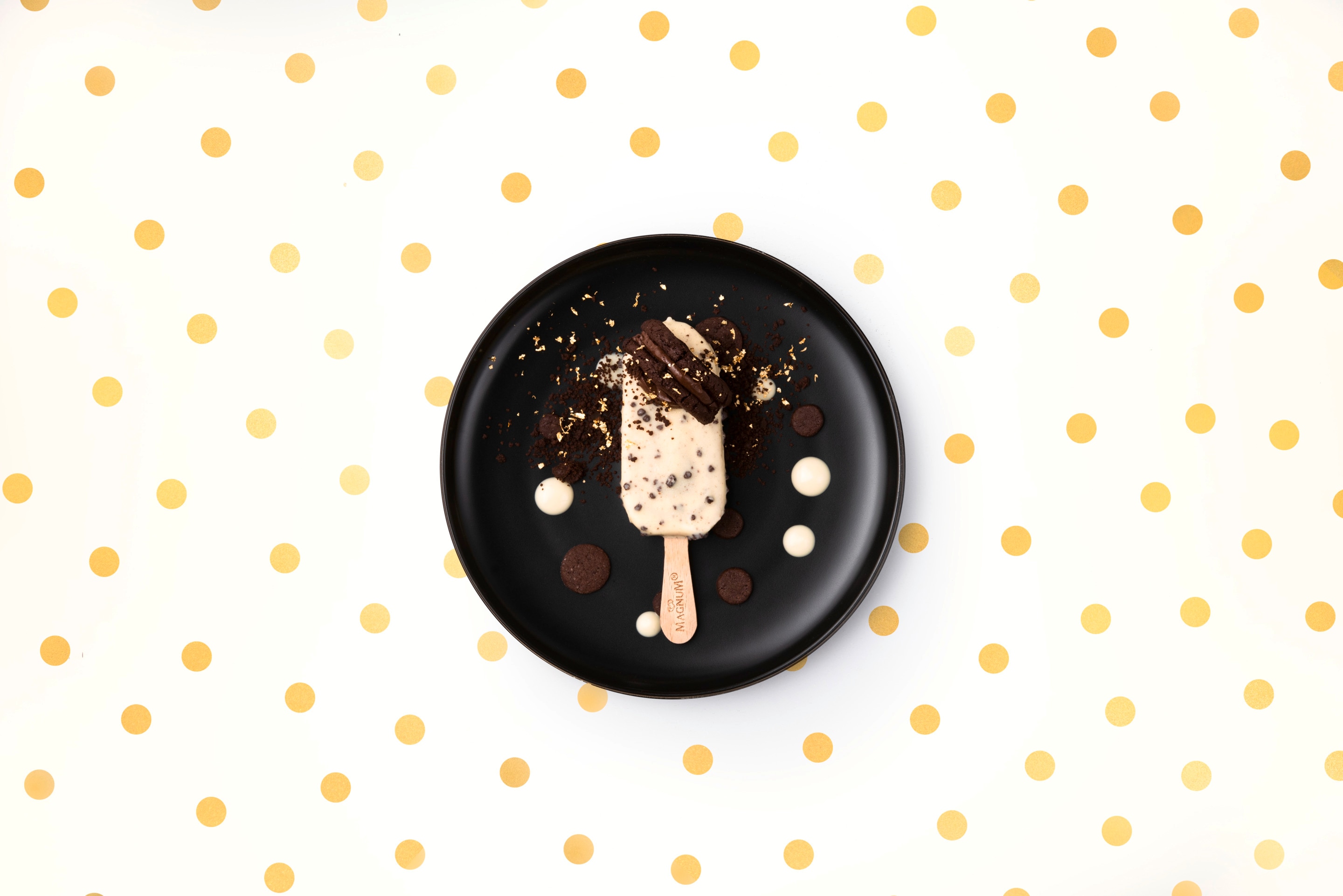 Ingredients
---
4 Magnum white & cookies

100 g crumbled dark chocolate cookies

50 g white chocolate

Edible gold sprinkles (alternative: sugar icing or cocoa powder)

100 g chocolate mousse
For the cookies
60 g dark chocolate

60 g butter

150 g sugar

2 small eggs

60 g flour

60 g cocoa powder

¾ tsp baking powder
Directions
---
For the cookies, melt the chocolate and butter in a large metal or glass bowl over boiling water

Once melted fold in the sugar and eggs, then the flour, cocoa powder and baking powder, with a spatula

Leave to rest in the fridge for at least 45 minutes

Pre-heat oven to 170 C

Once out of the fridge, form small balls of dough with your hands, place them on a parchment lined baking tray and press them down lightly (bake 4 cookie slightly bigger than the rest, you'll need them to finish the dish)

Bake for 10-15 minutes

Take them out and cut the bigger 4 in half while still hot

Melt the white chocolate while waiting for the cookies to cool
Plating - To be served immediately
---
Take 4 plates and make small dots with the melted white chocolate. Place the small cookies around the plate.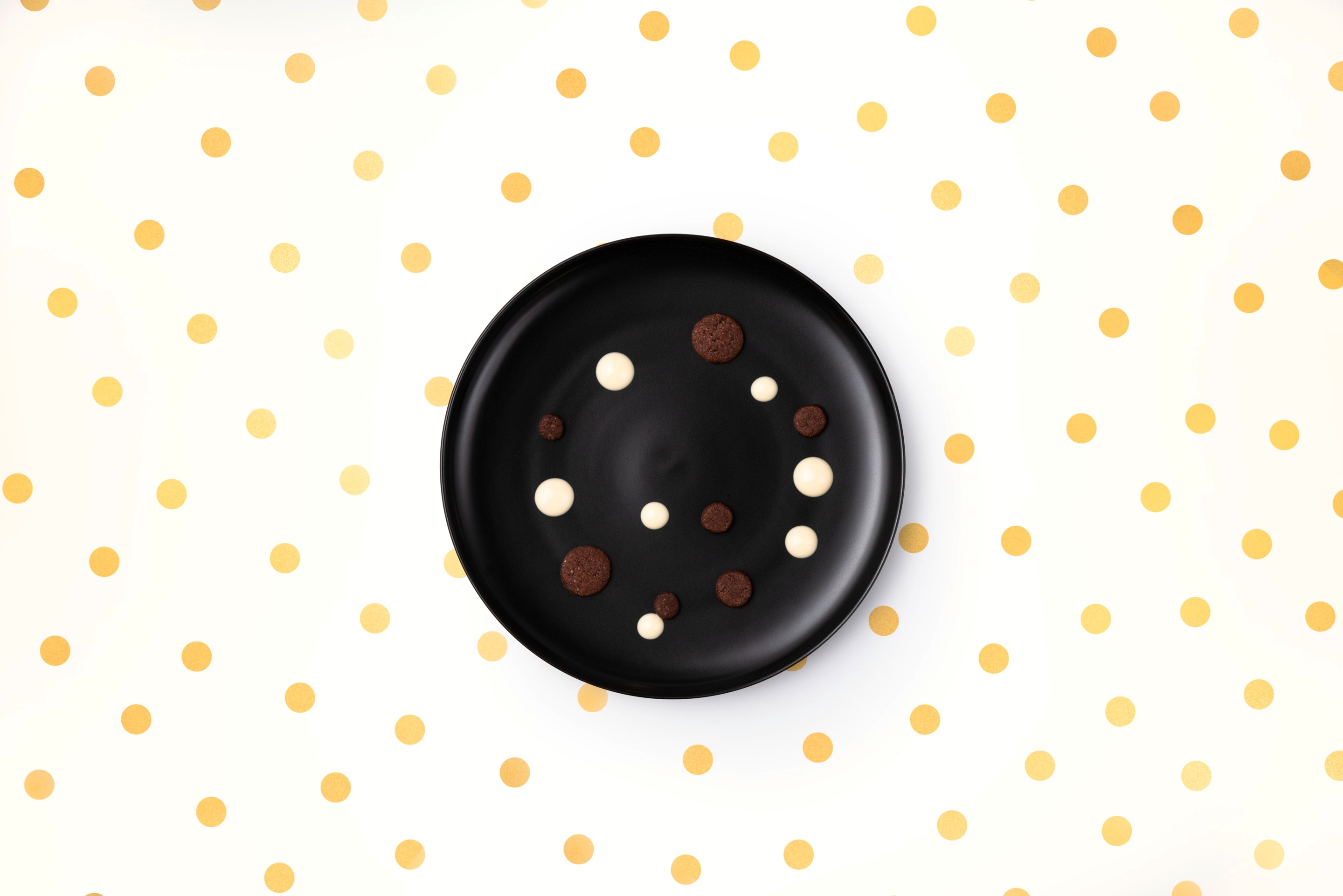 Sprinkle some cookie crumbs in the centre, place Magnum on top.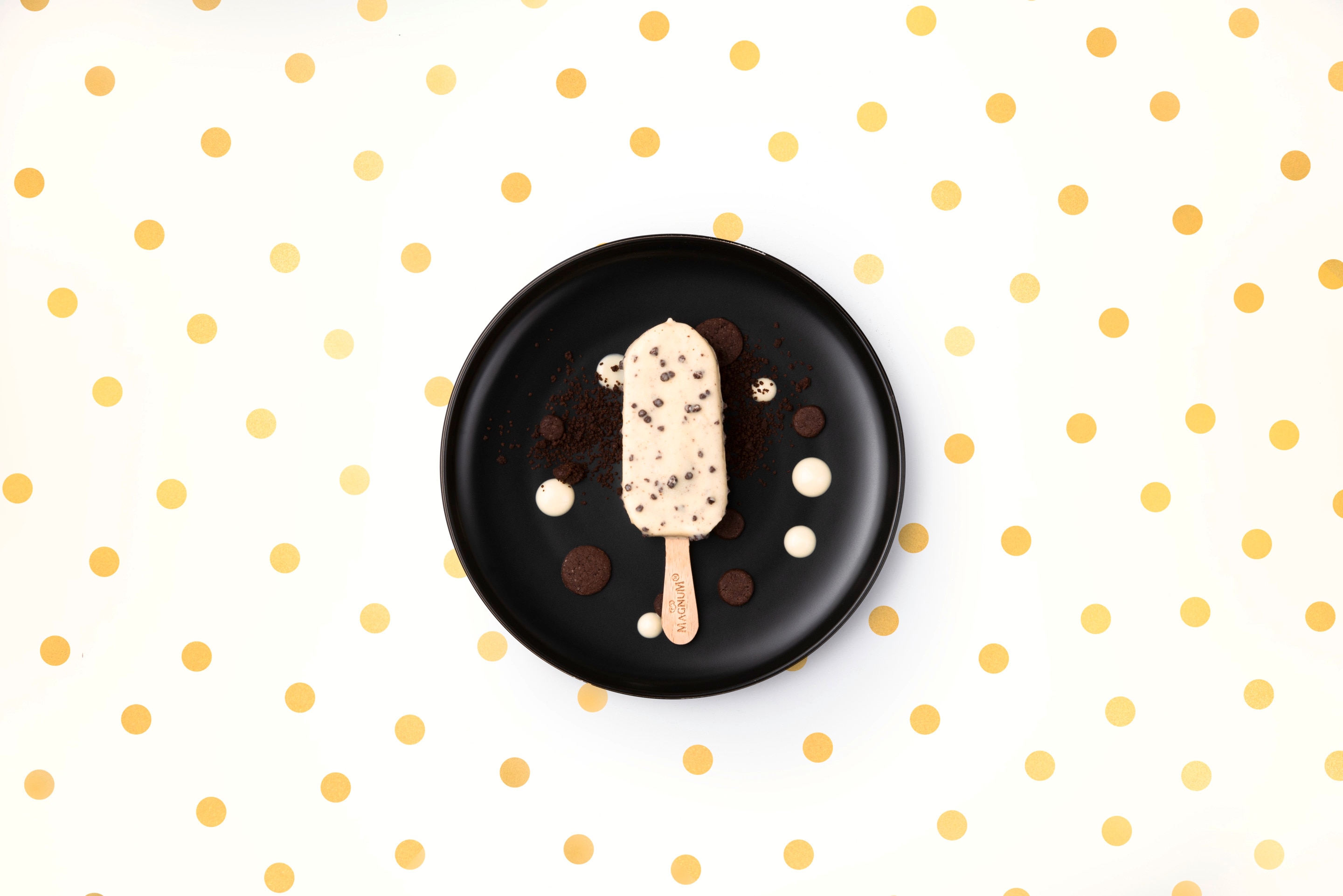 Spoon some chocolate mousse on top of the Magnum. Spoon some chocolate mousse on the 4 cookie halves, placing each other half on top of it to form a sandwich, place on top of Magnum.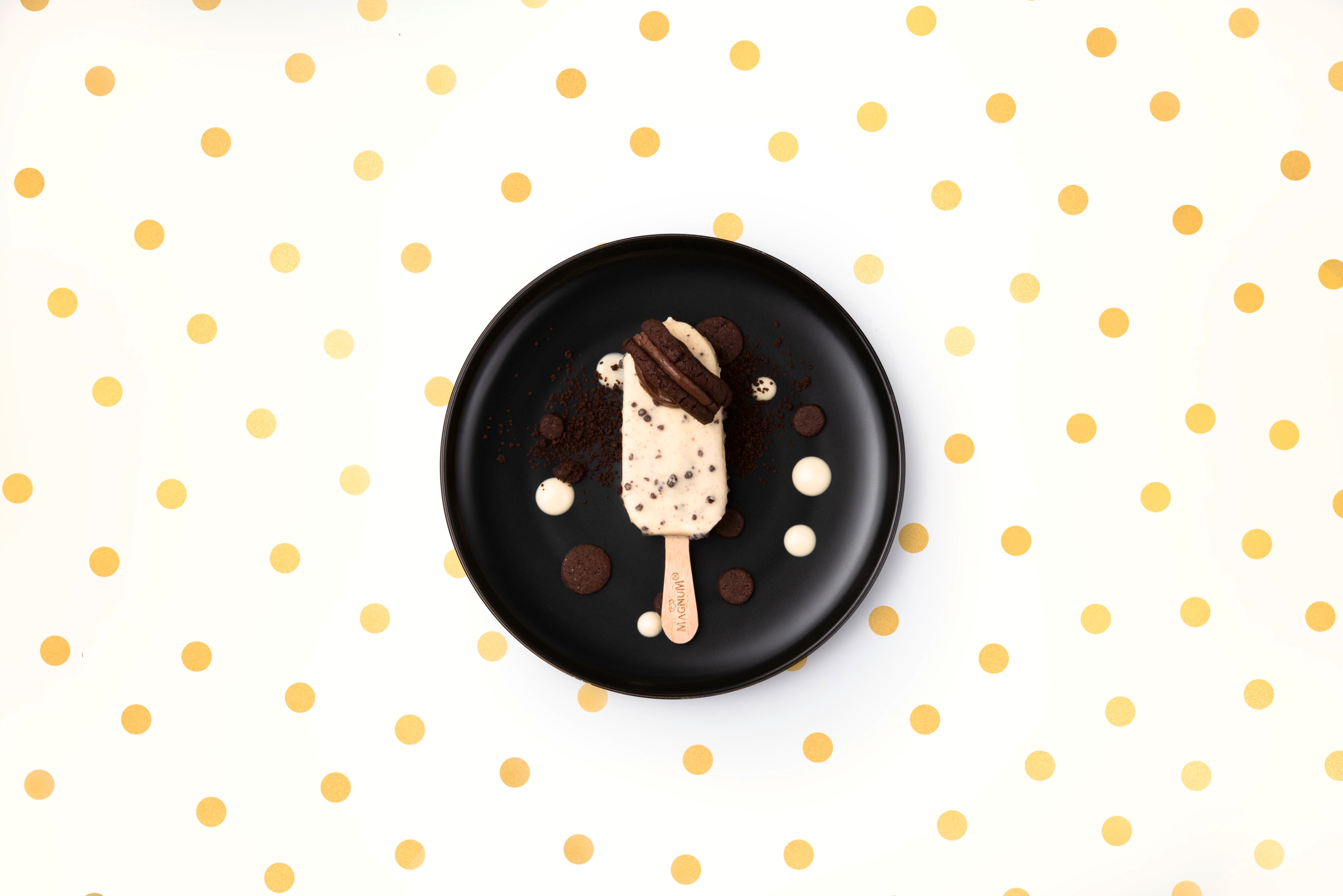 Garnish with cookie crumbs and gold sprinkles.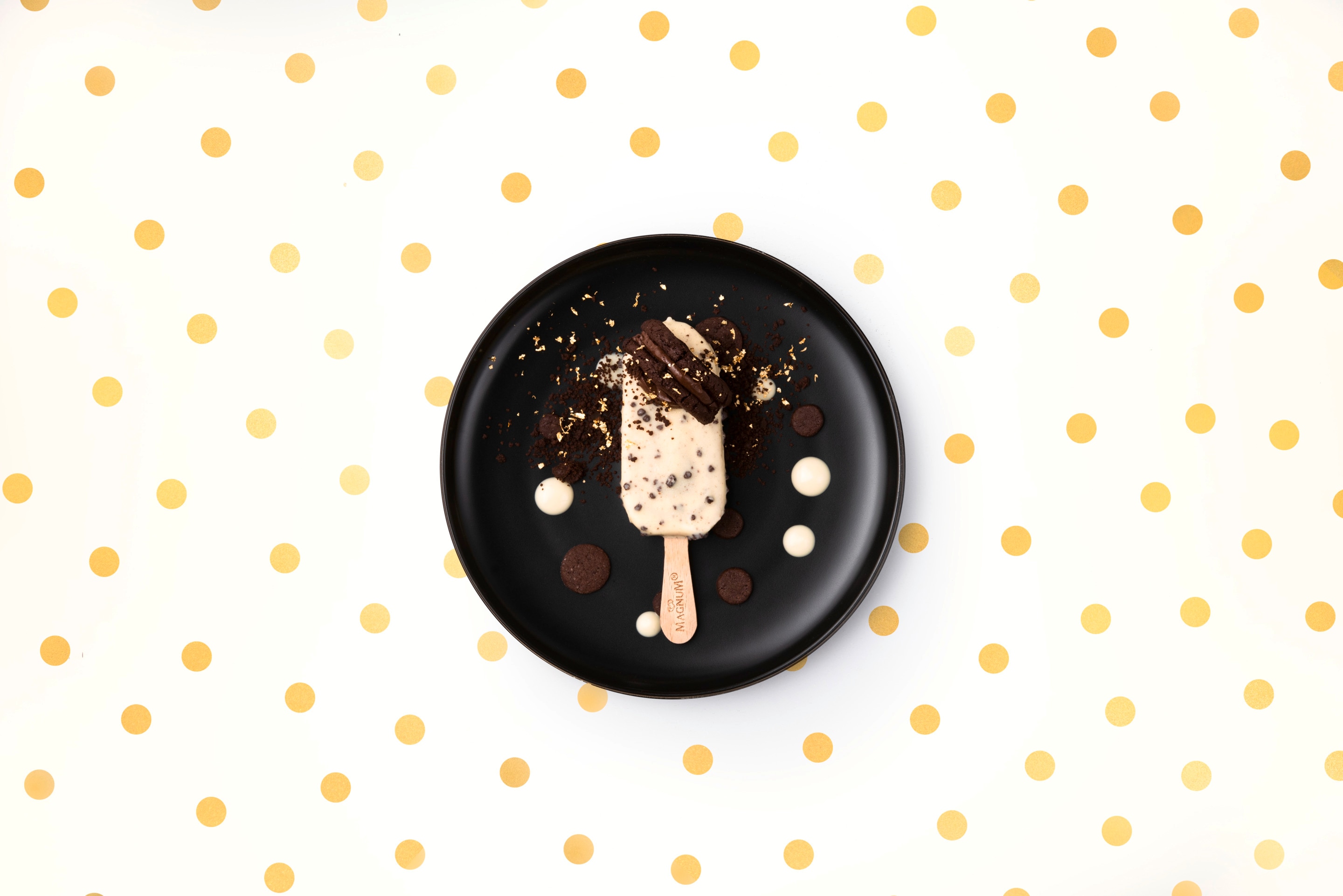 Velvety ice cream with cookie sauce swirl dipped in Magnum cracking white chocolate with cookie pieces.
Other recipes you might like
Discover the latest steps we've taken towards a more sustainable future.
slide 1
slide 2
slide 3
slide 4
slide 5
slide 6