AWA by Magnum
Our programme
We're committed to empowering women in our cocoa farming communities – economically and socially – by supporting them to diversify their incomes and gain more financial freedom.
Investing in our communities
Since 2012, we've invested €80M into making sure our cocoa supply is more sustainable, and a big part of that has involved making sure we know where our cocoa bean comes from. Not only has this enabled us to guarantee that our cocoa is Rainforest Alliance Certified, it's also helped us to identify 35 cooperatives in Côte d'Ivoire who will benefit from our wider impact programmes.
Our goal is to socially and economically empower 5,000 women by 2025. As of 2023, we have scaled up the programme to reach 117 cooperatives, enabling us to reach 3200 women, meaning we are more than half way towards our goal!
How the Programme Works
Our goal is to socially and economically empower 5,000 women by 2025.
Through our cocoa supply partners Cargill and Barry Callebaut; we collaborate with NGOs, including CARE International and 100WEEKS, to provide a social impact programme of up to 3 years with each cohort. The programme supports women with education, skills, and funding through direct mobile payments and social infrastructure which enables them to set up their own or shared businesses. Results from our first cohort that graduated in 2022 showed that graduates were saving 5x more than the African benchmark, 56% had started their own business, 74% expanded existing businesses, and 95% now had electricity in their own homes. On top of having the tools to prosper as entrepreneurs, women in the programme have shared that they have greater levels of self-confidence, leading to greater engagement of women in the community while also improving their relationships within their household.
We're also working with Ivorian fashion designer, Rebecca Zoro, to promote creativity in our farming communities. Rebecca grew up in a cocoa farming community, and has established herself as a renowned fashion designer under her brand la Maison Yhebe. She works closely with women in the programme to provide mentorship and workshops.
It's all part of our wider cocoa impact programmes, which are designed to support cocoa farming communities. This includes planting 465,000 new native trees in Côte d'Ivoire, and our commitment to working with Rainforest Alliance Certified farms.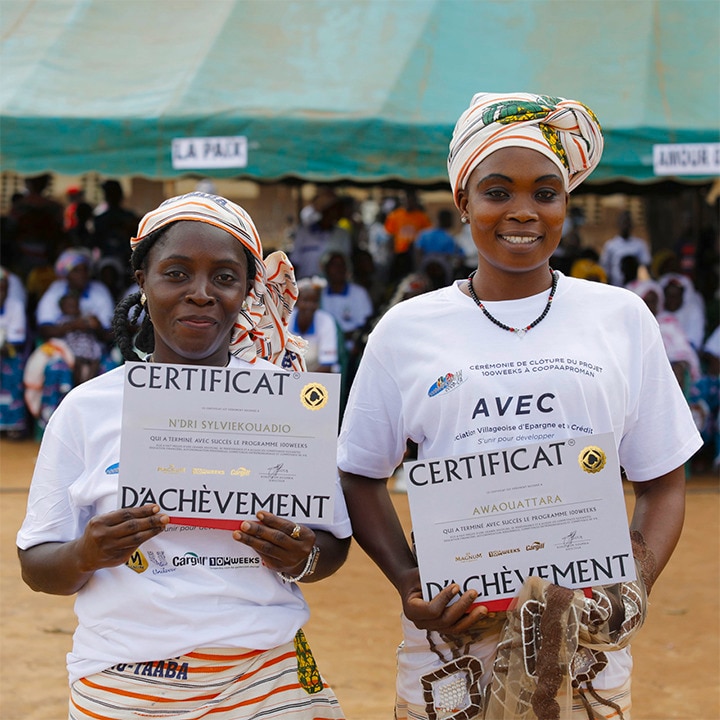 Our achievements so far
Our progress
Our goal is to support 5,000 women in our cocoa farming communities through our AWA by Magnum initiative by 2025.
Here's how we're doing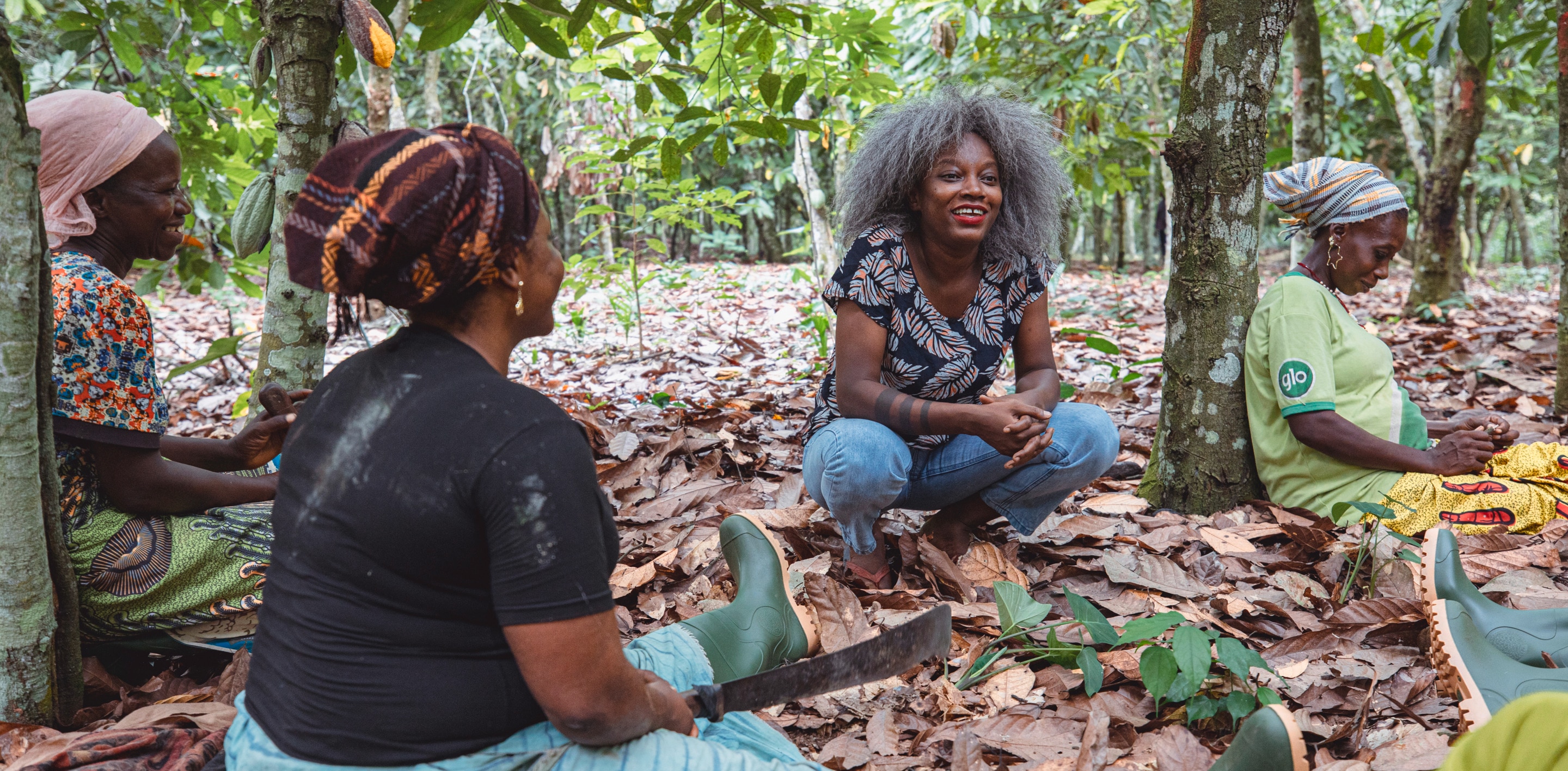 Our partnership with CARE International
CARE International works to fight inequality by eliminating poverty at the root and providing aid to those most in need. They believe that when women earn, everyone benefits. And they help women do this through their Village Savings and Loan Associations (VSLAs).
Their VSLAs enable community members to pool together their resources to create a 'village bank'. This allows women to save small amounts, see their collective savings grow, and borrow money – for example, to invest in setting up a small business.
We're partnering with CARE International (through our supply chain network) to help our communities set up VSLAs. Not only will they benefit from learning how to efficiently save and invest small amounts of money, they'll also receive training in business and marketing skills to help them make money from other skills and passions – helping them to secure a steady income all year round.
CARE International don't just give women the support they need to start their own businesses – they give them skills and confidence to grow them too. They provide comprehensive education and support on everything from literacy, self-esteem and leadership right through to overcoming gender stereotypes and gender-based violence. Plus, entrepreneurial and financial training to help them take their businesses, and themselves, to the next level.
We lost all of our cocoa fields because of swollen shoot disease, but thanks to my wife's business, we've been able to survive. It's given us an additional source of income and helped us to keep our children in school.
Bancé Salif, farmer
But CARE International aren't just offering training to the women in our cocoa farming communities, they're also providing gender training to local government bodies and community leaders. This involves educating them on the social barriers that women face, both in the home and in society, and working with them to establish gender committees. These committees will not only support VSLA members, but also advocate for women in community activities and lobby for their integration into decision-making authorities.

Meet some of the incredible women who've already benefitted from our impact programmes and see how our on-the-ground partners, are helping them to develop their own businesses.
Our work with 100WEEKS
100WEEKS is an IT platform that enables people to give money and support directly to women in need. We've provided funding which will enable them to empower hundreds of women in our farming communities. Over the course of 100 weeks they'll receive weekly payments on provided mobile phones alongside financial and entrepreneurial training. This will allow them to invest and develop sustainable livelihoods, enabling them to stand on their own two feet and change their lives for good. They'll also receive education on vital life skills, like family planning and nutrition.
The 100WEEKS programme has changed my life. Now I know how to manage and invest my money, and I plan to open a store for my business. It's changed a lot of things in my community too, for example, now I can afford to have electricity in my home.
Madina, farmer and trader
Our first cohort of 161 women graduated from the 100WEEKS programme in July 2022 – and the outcome for them has been life-changing. More than half have started new income generating ventures, and almost three quarters have expanded on their existing income generating activities. And with an average of 12 times more held in savings compared to the average Ivorian, they're set up for long term success.
And it's not just the 161 women that have benefitted, but their families and wider community too. As a direct result of the impact programme, 237 children can now go to school.
We started doing groups when 100WEEKS came to help us. That was the biggest help we got. I used to export eight bags, ten bags. But now I export 200 bags, 250 bags.
Konfé Habibou.
Our collaboration with Rebecca Zoro
Ivorian fashion designer and creator of LA MAISON YHEBE, Rebecca Zoro, is a passionate advocate for female entrepreneurship. She works with communities in Côte d'Ivoire to promote creativity, craft and financial independence – there's no one who shares our campaign mission to empower women quite so much.
Our partnership with Cargill
We work closely with our cocoa supply partner, Cargill to bring our on the ground programmes to life in Côte d'Ivoire. It's because of the partnership with Cargill that we are able to identify the cooperatives and members of the cocoa farming community that are most in need of support from the AWA by Magnum programme. Cargill works in collaboration with CARE International and 100WEEKS to develop, implement and scale the AWA by Magnum programme.
Our partnership with Barry Callebaut
This yearour second major cocoa supplier, Barry Callebaut, joins AWA by Magnum. By including Barry Callebaut in the programme, we are able to reach even more communities; expanding the programme to reach an additional 2400 women by the end of 2023.
Make a donation with 100WEEKS
Want to help change the lives of women in our cocoa farming communities? By making a donation through 100WEEKS, you'll be sending money directly to women in Côte d'Ivoire, which will help them to start saving and investing. And we'll keep you updated with their progress, so you can see just how far your donation goes.
Sustainability news
Discover the latest steps we've taken towards a more sustainable future.
slide 1
slide 2
slide 3
slide 4
slide 5
Pleasure that won't cost the planet
We're committed to creating a more sustainable future, from the packaging we use to the energy that powers our factories.