We're proud to unveil the face of our biggest social initiative to date – AWA.
Through this initiative, we're continuing our ongoing mission to improve the lives of women in our cocoa farming communities, helping them to stand on their own two feet. We're supporting them with income diversification opportunities and entrepreneurial training programmes, helping them to earn an additional income from their passions, such as traditional crafts.
We've already committed to invest €25M into our wider cocoa impact programmes as part of our 2025 Cocoa Strategy, with an emphasis on female-focused initiatives – because by investing in women, we're also investing in their families and communities. But the work doesn't stop there…
Equality through empowerment
Women play a huge role in producing much of our cocoa in Côte d'Ivoire, but the seasonality of cocoa farming makes it difficult for them to maintain a steady income. With the cocoa farming season only lasting for six months of the year, we're committed to providing them with year-round support.
Through AWA by Magnum, we're working to help these women bridge the gap and earn an ongoing and sustainable income all year round. Our goal is to economically and socially empower 5,000 women in our cocoa farming communities by 2025, and we're working alongside our charitable partners to do just that.
Our goal is to socially and economically empower 5,000 women by 2025. As of 2023, we have scaled up the programme to reach 117 cooperatives, enabling us to reach 3200 women, meaning we are more than half way towards our goal!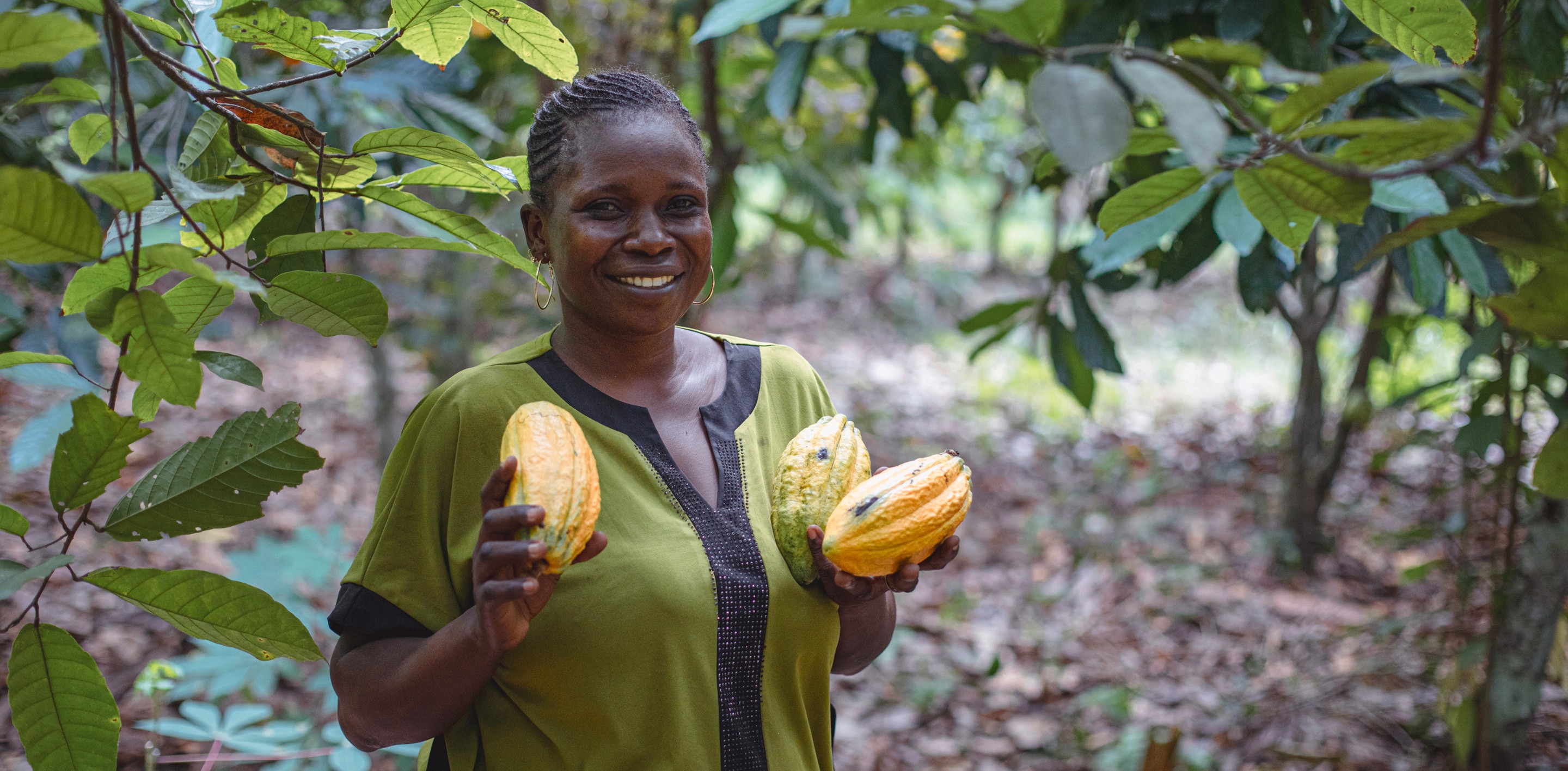 Before, women here did not trade. But since 100WEEKS came, many of us trade here in the village. So when you look at it now, there has been a lot of change in the lives of women. Our life has improved.
Kouamé Yah Viviane.
Who is AWA?
We wanted to shine a light on all the talented women we're working with. Created using state of the art 3D digital mapping technologies, AWA is a powerful digital representative of the women in our cocoa farming communities that we're working to support.
Forged from the portraits of 128 of the women who've already benefitted from our impact programme, everything AWA does, from the way she looks to the way she moves, is an authentic reflection of them. Our women are ultimately the best ambassadors for our programme of support, and we wanted a face that would represent every single one of them.
Through AWA we'll unpack the stories of each of the women signed up to our programme, and the achievements they make along the way.
And as for her name? AWA is an African name derived from Eve, the first ever woman, which we thought was pretty apt for our first ever digital ambassador. But not only that, it's also an incredibly popular name throughout West Africa, making AWA a true representation for the women we're supporting.
The creation of AWA
See how we turned 128 portraits into an authentic representative for the women in our cocoa farming communities. See how we created AWA.
AWA in action
To kickstart the initiative, we've collaborated with Ivorian fashion designer, Rebecca Zoro, to launch an exclusive five-piece capsule collection, with 100% of the proceeds from sales going straight back into our cocoa farming communities.
Inspired by Ivorian heritage and our cocoa farming communities, the collection is available to buy online.
Sustainability news
Discover the latest steps we've taken towards a more sustainable future.
slide 1
slide 2
slide 3
slide 4
slide 5
slide 6
Pleasure that won't cost the planet
We're committed to creating a more sustainable future, from the packaging we use to the energy that powers our factories.