Magnum Starchaser Spookshakes
Prep time

10 mins

Serves

2 persons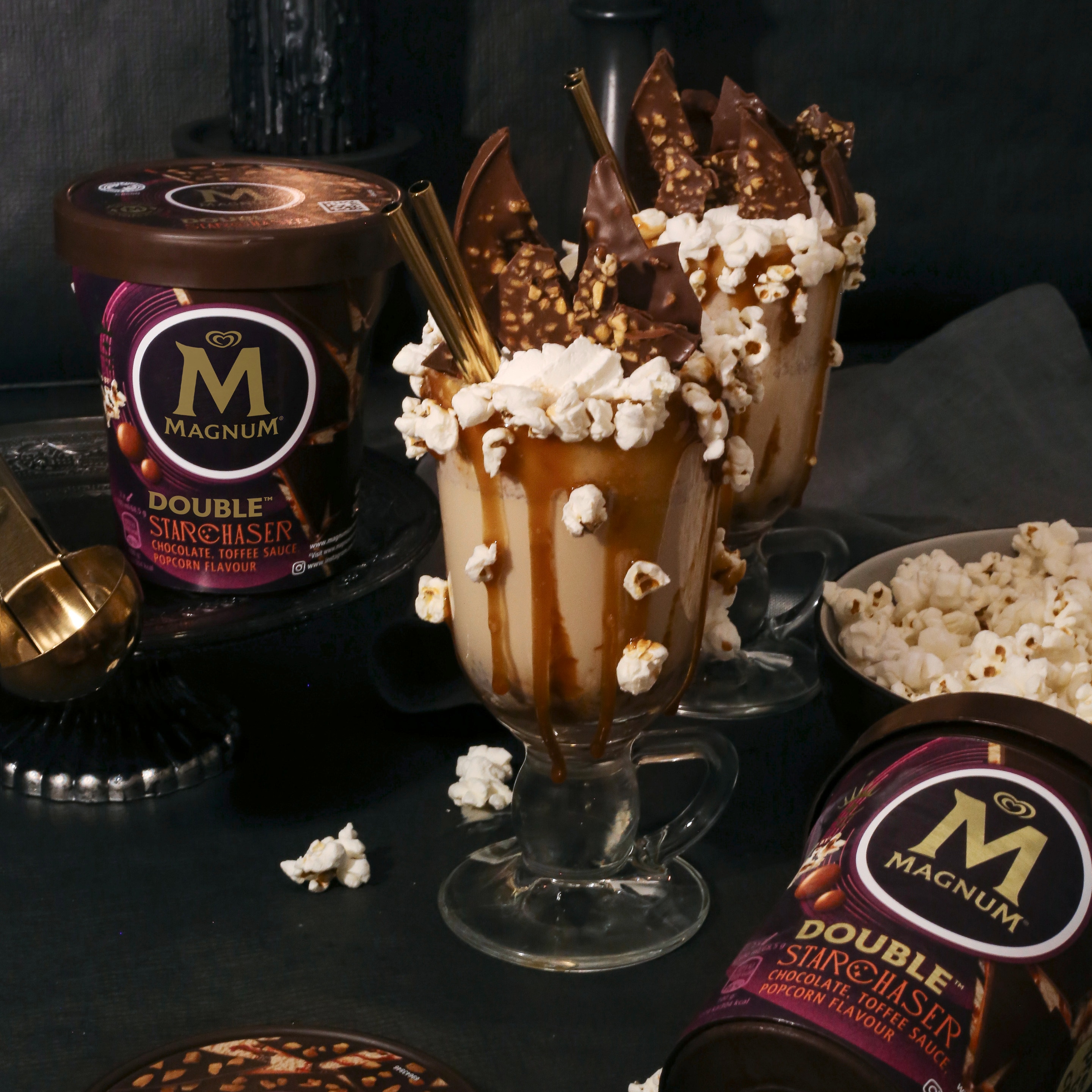 Ingredients
---
200 ml milk

1 cup popcorn

Whipped cream

Brown sugar caramel sauce:

100 g white sugar

25 g butter

70 ml heavy cream
Directions
---
Caramel sauce:
Melt the sugar in a saucepan on medium heat for around 6-7 mins.Add the butter and stir. Add the heavy cream and use a whisk to stir until you are left with a creamy caramel sauce. Let it cool to room temperature before using.
Milkshake:
Place the Magnum Starchaser ice cream into a blender with the milk and blend on low speed for 30 seconds.
Spooky Popcorn Ghosts :
Melt the Magnum Starchaser ice cream tub on the hob or in a microwave. Put the melted chocolate into a piping bag, and pipe small dots that look like eyes directly onto the popcorn. Want to get creative? You can make other scary faces if you want!
Assembling:
Crush 1-2 cups of the popcorn and place on a flat plate. Dip the tip of the milkshake glass into the caramel sauce and roll the glass into the crushed popcorn. Attach the Spooky Popcorn Ghosts by hand. Add more caramel sauce into the cup and pour in your creamy milkshake. Serve with whipped cream on top and you Spooky Popcorn Ghosts!"
A blend of velvety smooth popcorn flavour ice cream with a layer of rich toffee sauce, uniquely finished with a topping of roasted corn and a cracking chocolate top and shell.
Other recipes you might like
slide 1
slide 2
slide 3
slide 4
slide 5
slide 6