Fashion
Magnum x Alexander Wang explain how to take pleasure seriously
This year, Magnum is celebrating pure, unadulterated pleasure. The importance of craft, quality, and truly enjoying those perfectly pleasurable moments.
Whether it's taking a slow bite of thick Belgian chocolate to reveal velvety smooth Magnum ice cream, slipping into a stunning silk dress, or simply dancing like no-one is watching - whatever your pleasure, it's time to start taking it seriously.
And in our most luxurious collaboration yet, we're teaming up with world renowned designer Alexander Wang and international supermodel, Bella Hadid. A duo who know exactly how to take pleasure seriously.
Together, with their shared passion for creating quality through craft, they're celebrating the importance of pleasure in our new Magnum film.
Set on a seemingly-typical fashion shoot, the two portray the pleasure of fashion, friendship and fun. And when they take a bite through the thick, cracking chocolate of their Magnums – they reveal the lighter side of the industry and show us their more playful sides.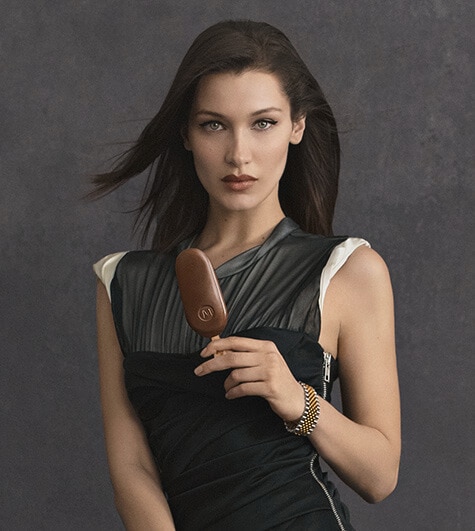 As Bella herself said, "In a world where pleasure is prohibited by time, schedules and stress, it's great to inspire people to experience honest enjoyment. Starring in this short film with my friend Alexander Wang was the ultimate indulgent experience."
And as Alexander Wang and Bella Hadid discovered, great things can happen when you start taking pleasure seriously – a star-studded party at Cannes, a luxurious fashion item…all will be revealed on the 10th of May.
slide 1
slide 2
slide 3
slide 4
slide 5
slide 6
slide 1
slide 2
slide 3
slide 4
slide 5
slide 6