Fashion
MAGNUM talks to KIDDY SMILE about Pride, Music and Pleasure
Interview: Antoine Leclerc-Mougne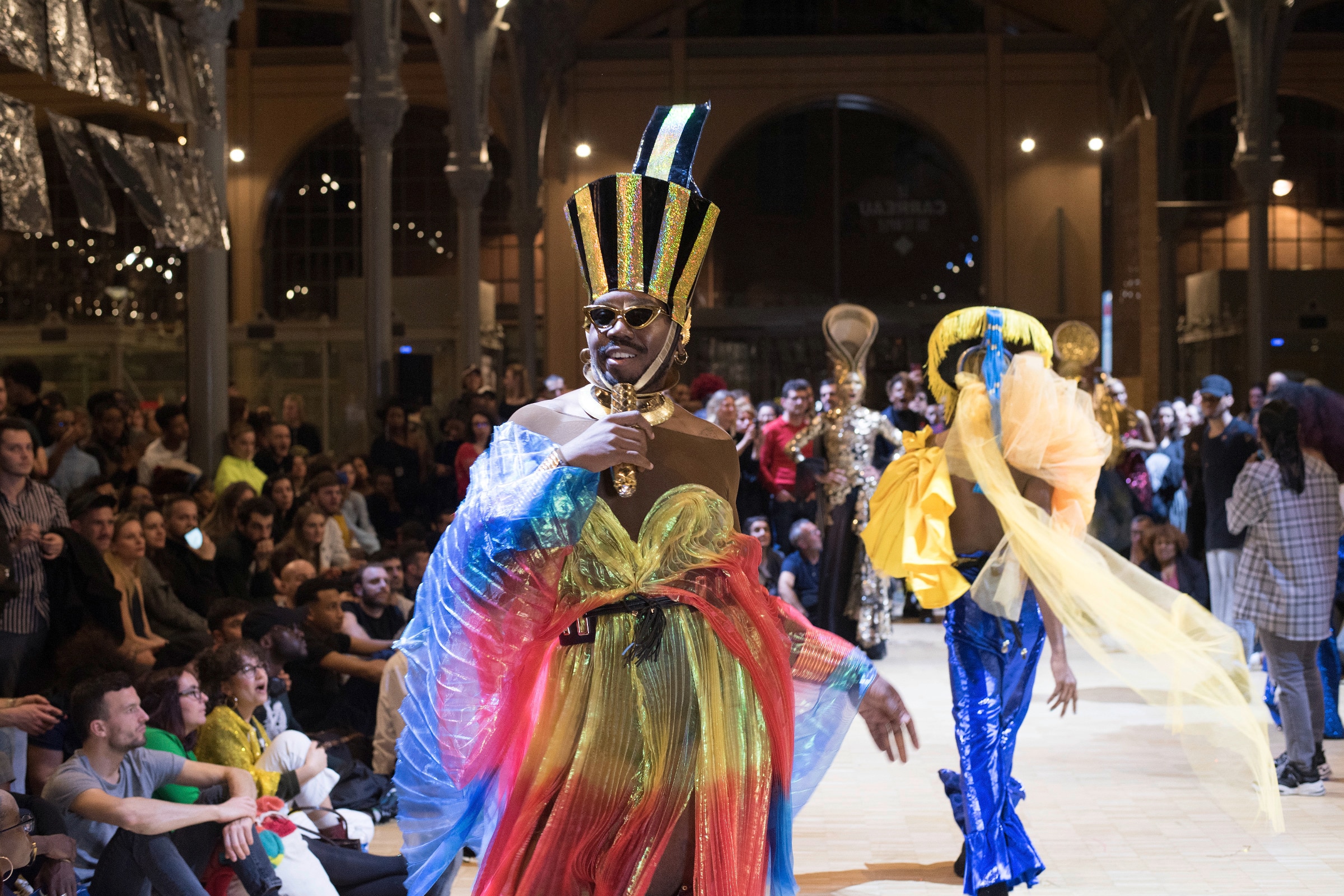 Multifaceted artist (singer, performer, Dj and dancer) Pierre-Edouard Hanffou, aka Kiddy Smile has established himself in a few years as one of the main queer figures on the French House and Voguing scene.
Always having in mind the idea of shaking up codes and social norms: whether it is for his performance at the presidential Palais de l'Elysée for 2018 Music day during which he wore a t-shirt written "Son of immigrants, black and fag" ("Fils d'immigré, noir et pédé) or during his red carpet appearance at the 2019 Cannes Film Festival where he broke the protocol by wearing a dress. Well, Kiddy has never been one to conform to other people's expectations and instead has always been true to himself… This is exactly why Magnum has partnered with him for several years.
Magnum: Why did you choose to partner with Magnum to talk about Pride Month?
Kiddy Smile: Simply because they have always supported my work, so when they offered me to work on their new campaign, I said yes. We have been working together for four years already. In the past, they invited me to various events, including their beach party at the Cannes Film Festival, and if you look closely, they have always wanted to promote queer representation through their content. I had already noticed this in their 2015 advertising that featured Drag Queens, long before other brands took the LGBT trend during Pride Month.
M: Would you define yourself as an LGBT+ activist?
KS: To be completely honest, no - Because for me, to be an activist is to get involved in a fight and in actions in order to dismantle an existing structure, by for instance, having laws voted or repealed. I just make music. On the other hand, I cannot deny that talking about my life - as a black homosexual when I am given a platform - can have a certain impact and influence on the public. But in reality, it's just about my life, my personal story. This is not what I would call activism per se.
Maybe people think I'm an activist because I can express myself strongly on my oppressions in a language register that people usually don't expect from me. I bring a societal and political light to it but it is only a question of my own existence. If today I have this place in music and if I'm able to display myself and show myself as I am, it is certainly thanks to other people in the past who led the way. I believe that music and dance is an important platform for self-expression and therefore sharing your views. There has always been a strong link between entertainment culture and equality movements through music, dance, art etc.
M: What is your view on diversity in terms of representation within the musical and media industry?
KS: It's obvious that with my job, I have access to many privileged spaces and I must say that they do not resemble, if at all, the life I have; and that the people who gravitate there do not resemble those I frequent on a daily basis. I would really want to see France as a country that looks more like me. Without even getting into the concept of intersectionality, I am still extremely shocked to see groups of friends who are uniquely white, of the same origin and of the same sexuality. What makes that even possible in France in 2020? I don't think it's normal.
M: You just mentioned the term "intersectionality". This is a question that stands out a lot in this particular context where this year the anti-racist protests are happening during the pride month. The LGBT+ community is often criticized for its lack of diversity and the racism within its ranks. However, more and more voices are rising to promote a kind of unification of the fight. What do you think of this idea of the convergence of struggles?
KS: It's a great idea. I want to believe in it. But it's not new. The problem is that today, we tend to forget to educate ourselves on the true origins of LGBT+ activism which was nonetheless initiated by the anti-police riots in Stonewall in New York, an action led by Marsha P.Johnson: an HIV-positive, African-American black transsexual woman. Few people know this, and it proves once again that history can easily be whitewashed and that it is not properly disseminated to the masses.
M: In the age of coronavirus and lockdown policies, how do you live the time of pride month without the possibility of celebrating and partying?
KS: It's not fun at all, we want to dance! But it's still temporary though. We will survive and it will come back at another time. In the meantime, we can always find alternative ways to celebrate and also to celebrate ourselves.
M: What form do you think that celebration could take in the future?
KS: Well, we simply have to celebrate ourselves, feel good, live as we are and not apologize for being who we are. We always need some small pleasures in our life. That is why Magnum contacted me because that's exactly the message the brand stands for. I live my life without worrying about what others may think: this is the message to get across and to celebrate.
Photo: Florian Léger, agencedesmediassociaux.com
slide 1
slide 2
slide 3
slide 4
slide 5
slide 6
slide 1
slide 2
slide 3
slide 4
slide 5
slide 6