Cooking Time

0 Minute

Prep Time

5 Minutes

Serves

1 People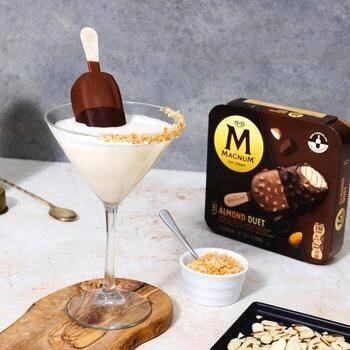 Ingredients
1 oz. vodka
1 oz. cream of coconut
1 oz. white crème de cacao
1 oz. amaretto
1 Tbsp. coconut milk
1 1/2 tsp. maple syrup, plus more for the rim
1 Tbsp. toasted coconut, for the rim
1 bar Magnum® ice cream Almond Duet Bars
Directions
Add ice to a cocktail shaker. Add vodka, cream of coconut, white crème de cacao, amaretto, coconut milk and 1 1/2 tsp. maple syrup. Shake vigorously.

Coat half the rim of glass in maple syrup, then dip in toasted shredded coconut.

Strain martini mixture into chilled martini glass.

Top with Magnum® ice cream Almond Duet Bar. Serve immediately.