CARAMEL CORN ICE CREAM BARS
Cooking Time

0 Minute

Prep Time

15 Minutes

Serves

2 People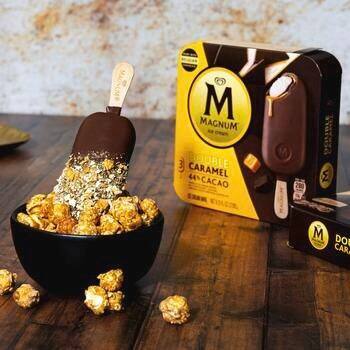 Ingredients
6 ounces bittersweet chocolate chips or chopped bittersweet chocolate bars or melting wafers
1 cup store bought caramel corn
2 Magnum® Double Caramel Ice Cream Bars
Directions
In a medium saucepan, bring 1 cup of water to a simmer. Reduce heat.

Add a heatproof glass bowl on top of the saucepan so it rests just above the simmering water but doesn't touch it.

Add chocolate chips to the bowl; stir frequently as it slowly melts.

Pulse caramel corn in food processor for a few seconds until you get small pieces.

Dip each bar halfway in melted chocolate, then dip into crushed caramel corn. Serve immediately.