Food
Indulge In Decadence Without The Dairy In Two New Ways
Did you know that you don't need dairy to experience true ice cream indulgence? Mangum Non-Dairy Bars deliver the decadence you love about the original Magnum Ice Cream Bars, but without any of the dairy. Now, there are two new ways to delight your taste buds. Joining our Non-Dairy Sea Salt Caramel and Non-Dairy Almond Magnum non-dairy frozen dessert bar packs are new Magnum Non-Dairy Hazelnut Crunch Bars and the Mangum Non-Dairy MINI Variety Pack. Discover how to enjoy decadence and taste with none of the dairy.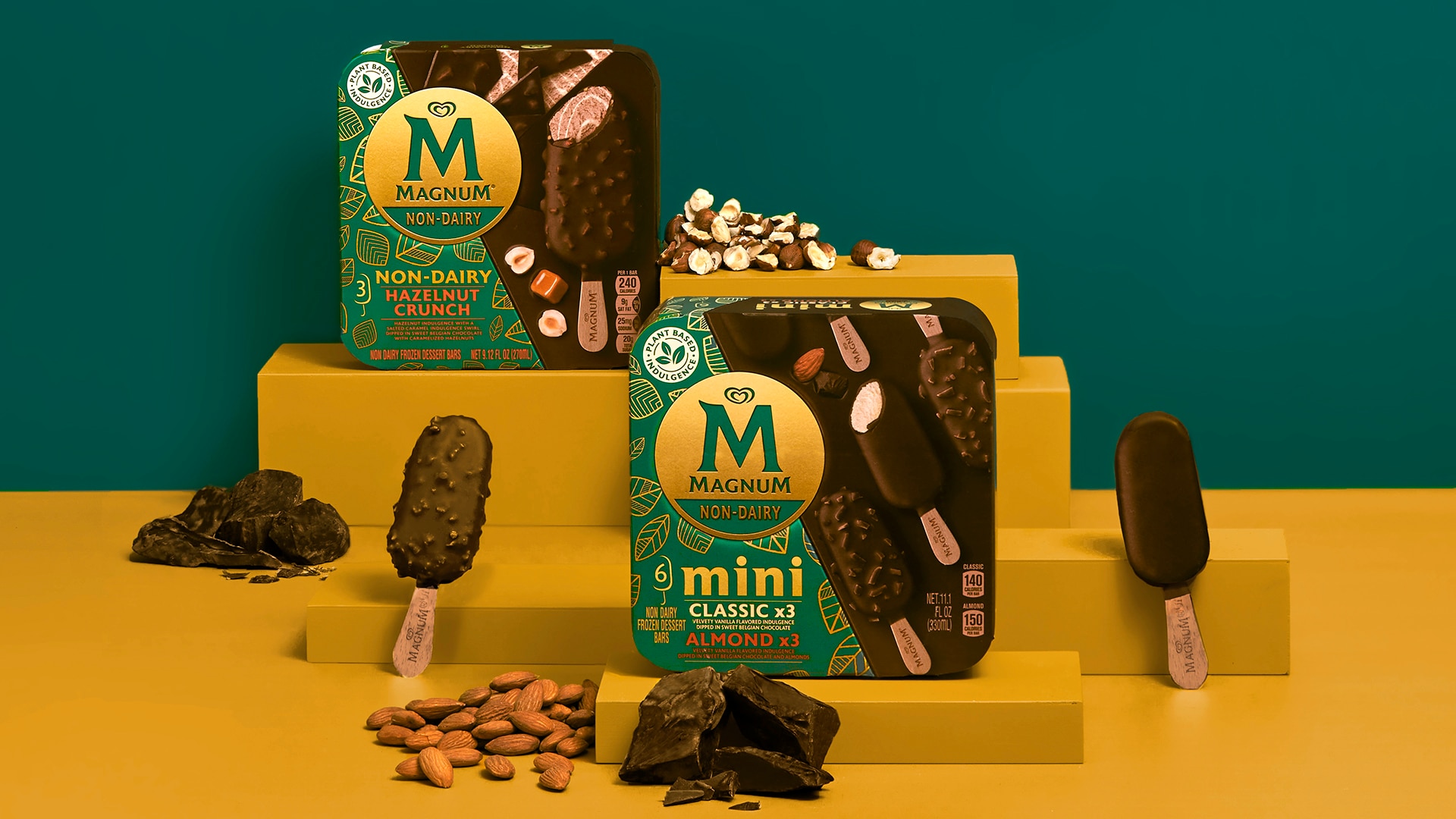 Expertly crafted with non-dairy chocolate and a velvety dairy free frozen base, all the Magnum Non-Dairy flavors promise plant-based indulgence with Magnum's signature cracking chocolate experience in every bite. Crafted by the chocolatiers of ice cream with high-quality ingredients and made with Belgian chocolate, Magnum Non-Dairy bars combine our passion for indulgence with a new take on our classic ingredients. Our master chocolatiers source cocoa beans from Rainforest Alliance Certified farms to create the rich, dairy free chocolate coating on each non-dairy bar.
The newest flavor to join the Magnum Non-Dairy collection is the salty, sweet, and all-around delicious Mangum Non-Dairy Hazelnut Crunch Bar. Featuring a decadent, dairy free hazelnut base with salted caramel swirled throughout, dipped in crunchy caramelized hazelnuts and luscious non-dairy chocolate, the Non-Dairy Hazelnut Crunch Bar delivers nutty, creamy perfection in one heavenly bar. Crafted for those who can't resist the luxurious taste of chocolate and hazelnut, this non-dairy frozen dessert bar is 100% indulgent.
Adding even more assortment to our collection of Non-Dairy Magnum flavors is the new Magnum Non-Dairy MINI Variety Pack. This pack offers two fan-favorite flavors to choose from with three MINI Non-Dairy Classic bars and three MINI Non-Dairy Almond bars for the perfect snackable experience. If you already love Magnum MINI Ice Cream Bars, these non-dairy additions offer you a dairy free version of your favorite mini treats.
The MINI Magnum Non-Dairy Classic Bar is crafted with a creamy vanilla non-dairy frozen base and dipped in a cracking milk chocolate shell. Inspired by Magnum's first Classic Ice Cream Bar, this plant-based treat is the next-level of non-dairy treats in a sweet, snackable size. The MINI Magnum Non-Dairy Almond Bar features a velvety and fragrant vanilla non-dairy base, dipped in a cracking milk chocolate shell, and topped with a sprinkling of sea salt and roasted almonds, for a unique taste like no other. Like our original Magnum MINI Almond Ice Cream Bar, this mini treat is a perfectly petite size for all your non-dairy ice cream cravings.
Enjoy dairy free ice cream bars without compromising on luxurious taste. Magnum welcomes new Magnum Non-Dairy Hazelnut Crunch and the Mangum Non-Dairy MINI Variety Pack to our decadent non-dairy collection giving Magnum ice cream fans even more opportunities to indulge. The search for decadent non-dairy ice cream bars is now easier than ever with rich, creative flavors and exquisite, high-quality ingredients that promise to delight your chocolate-loving taste buds. Decadent inside and out, Magnum Non-Dairy bars turn plant-based treats into pure ice cream indulgence. Prepare to fall in love at first (non-dairy) bite.
A brief Belgian chocolate history
Belgium's love affair with chocolate started as far back as 1635 during the country's Spanish occupation and shortly after chocolate's first arrival in Europe from Mesoamerica. With a flavor unlike anything the country had experienced before, its appearance proved to be a sensation and by the mid 18th century, chocolate had become extremely popular as a luxury item of status among the upper and middle classes. But it wasn't until Belgian chocolatier, Jean Neuhaus II, first created the praline in 1912, that the exquisite Belgian chocolate we know today really began to take form and make itself known on the world stage.
What makes it so Magic?
In a word? Craft. Belgian chocolatiers are rightly regarded as some of, if not the very best in the world. It's through the rigor, finesse, tradition and the pure craftsmanship that goes into producing the chocolates of their homeland that they've attained this lofty reputation. In fact, Belgian's are so serious about quality chocolate, it's even written into their law — since 1894, the composition of Belgian chocolate has been regulated to ensure a minimum level of 35% cocoa.
Edible Masterpieces
Although pralines, those exquisitely rich, soft centered chocolates in a thin chocolate shell, are arguably Belgian's most famous chocolate creation, they also produce some of the world's greatest truffles. These often contain an intense, semi-emulsified chocolate filling and are coated in delicate wafer or high quality cocoa powder. There's also a smaller, but still extremely vibrant, market in the production of luxury, hand-finished, artisanal chocolate items, from eggs and animals to figures and hearts for more specific occasions, like Easter, Christmas and Valentine's day.
Swiss chocolate vs Belgian chocolate
Two European countries are known worldwide for their delicious chocolates: Switzerland and Belgium. It's clear both are delicious but what are their key differences?
Belgian chocolate typically has a higher cocoa content.
Swiss chocolate tends to be creamier in texture.
Swiss chocolate is associated more with milk chocolate, while Belgian chocolate is associated more with dark chocolate.
Belgian chocolatiers are known to be more experimental and are famous for creating pralines, truffles and treats with exotic fillings.
Only the best for Magnum
At Magnum Ice Cream, we couldn't possibly opt for a chocolate that was anything less than decadent. One bite through the chocolate shell coating of your favorite Magnum bar and you'll know what it's like to condense hundreds of years of Belgian chocolate mastery, tradition and expertise into one delicious moment of pure indulgence.
slide 1
slide 2
slide 3
slide 4
slide 5
slide 6
PRODUCTS
Select Your Indulgence
slide 1
slide 2
slide 3
slide 4
slide 5
slide 6